Kitchen Cabinet Refinishing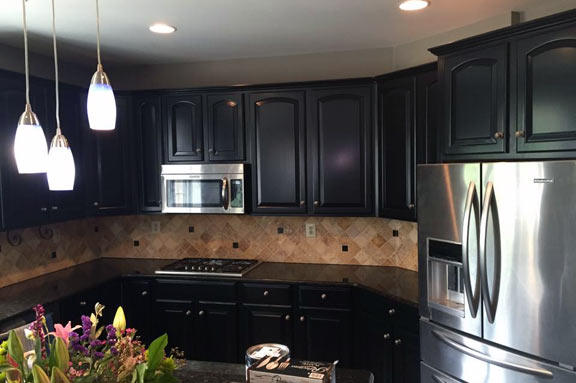 Better Than New
By painting your kitchen cabinets instead of buying new ones, you'll save time and money. It only takes two days for us to make your cabinets look new again. We make sure you have as much access to your kitchen as possible. Like we do with every type of painting, we clean up every day and leave the area free of our equipment.
We remove the cabinet doors and bring them back to our shop.
The doors are painted and the fixtures are cleaned at our shop.
In the meantime, the frames and sides are sanded, cleaned and painted.
Within two days we reinstall the doors and fixtures.
Have us install new hardware if you'd like.
Durable and long-lasting results.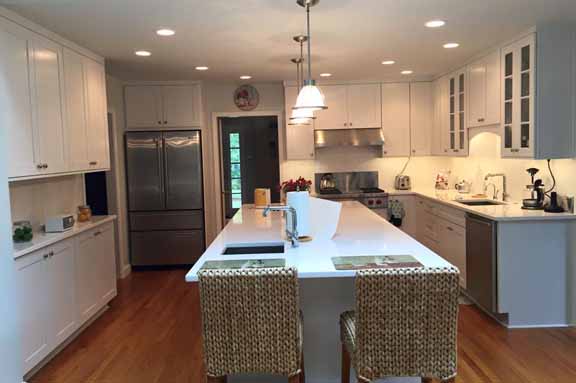 How We Protect Your Kitchen
To protect your countertops, floors, and inside your cabinets while we work, we tape down paper on your countertops and use drop-cloths on top of the paper. We also lay drop-cloths down on the floor. We seal off the cabinets with plastic so that no dust or paint can get on your food. You'll always have access to your food and equipment because we can take down the plastic as needed.
No need to empty your cabinets!
Countertops, floors and the contents of your cabinets are carefully protected.
We clean up as we go and at the end of each day to keep you feeling comfortable in your home.
Within two days we reinstall the doors and fixtures.
Have us install new hardware if you'd like.
Durable and long-lasting results.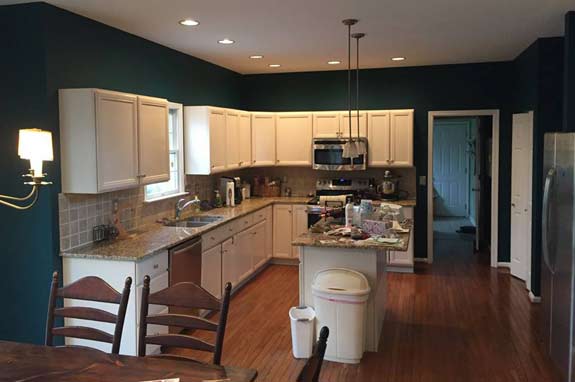 Imagine the Possibilities
A fresh new color on perfectly sanded surfaces makes it seem as if you had the entire kitchen redone. Make new or existing appliances and decorative touches stand out against the freshly painted color. Overwhelmed by the choices? You'd be surprised by how affordable a color consultation with an interior designer can be. We've worked with some of the best in the greater Philadelphia area and we'd be happy to refer you to someone we trust.
Classic white, energizing red, dramatic black and more!
Overwhelmed? Check out News and Tips for blogs about color.
Ask about a referral to get a color consultation with a professional.
Color consultations with interior designers are more affordable than you might think.
We use specialty paints for kitchen cabinets that do not make white turn yellow over time.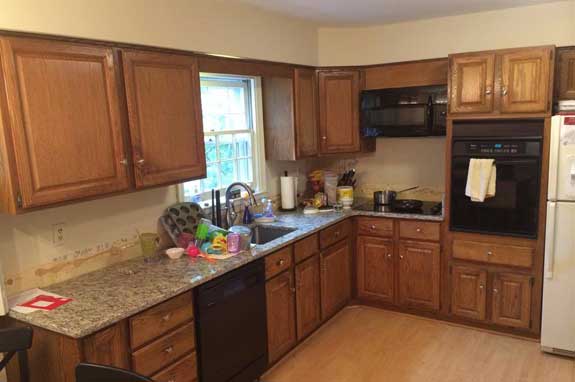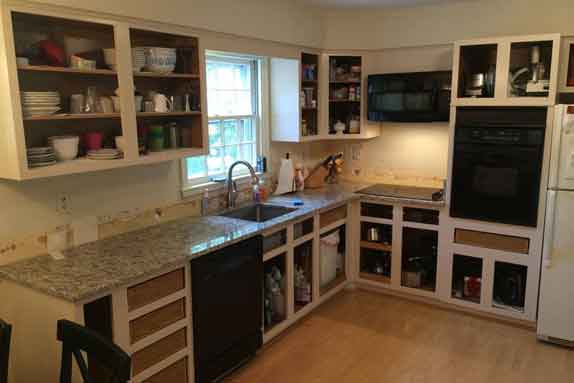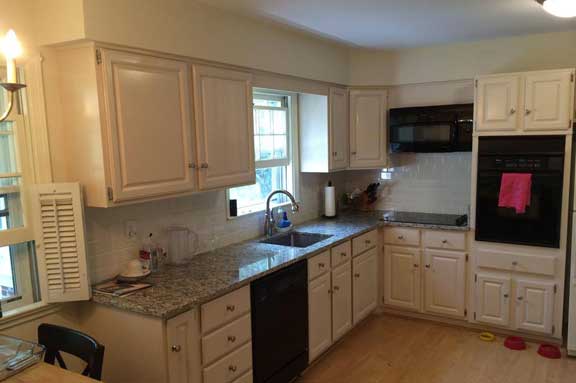 Before
This is what a customer's kitchen looked like before we started.
During
Here you can see what it looks like after we've removed the cabinet doors. We take them back to our shop to give them a flawless finish. You won't even need to remove your food.
After
We bring the doors back, replace them and change the fixtures if you wish. Within two days you'll have a brand new color and a flawless finish.